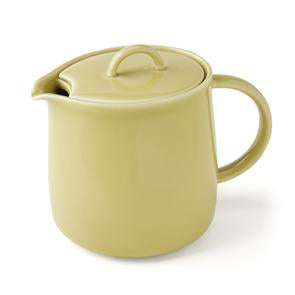 D'Anjou Teapot w/Infuser Basket 20 oz.
$ 38.00
Teapot - D'Anjou Teapot 
This unique French-style teapot has a ceramic pot and lid, dishwasher and microwave-safe. Comes with a tightly meshed stainless steel infuser basket perfect for any tea party!
Pairs perfectly with our D'Anjou Tea Cup and Saucer.
Includes
Teapot & Lid-20 oz. / 591 ml. L 6.34" x W 4.49" x H 5.16"
-Lead-free High-fired Ceramic
-Dishwasher and Microwave Safe
Infuser : Stainless Steel / Polypropylene

-Heat resistant up to 120°C/240°F
-Extra fine for all types of tea
- Dishwasher-safe
- BPA-free
Related Products